Performing & Cultural Arts
Our performing arts heritage spans the spectrum of venues – from achieving exacting details restoring several near-century-old opera houses to integrating 21st century technologies and equipment into concert halls, recording studios, theatrical stages and galleries.
Design Synchronicity
Strang brings diverse, yet precisely aligned performing arts experts from architecture, engineered systems, technology, interiors, sustainability and planning. From auditoriums to back-of-house spaces, everyone is collectively dialed into your project, evaluating the impact of each decision.
Seating configurations
Colors, finishes selection
Lighting and fixtures
Voice, Data, Security, AV Design
Back-of-house planning
Client feedback surveys routinely rank our Design Synchronicity model as "highly valued" for delivering optimal project outcomes and real, tangible value. Our clients state that vertical integration remains a significant reason why they return to Strang. One such client recently stated:
"Trust is built upon performance, and Strang has never let us down. In fact, you routinely exceed expectations across the board."
We are privileged to design venues hosting a wide variety of works, from Beethoven to blue grass, Arthur Miller to Glenn Miller to Steve Miller, Shakespeare to Sondheim or international theater troupes to local boy scouts.
Strang designers (and their designs) celebrate imagination, nurture creativity, empower the arts and help galvanize regional citizenry in support of your vision and build environment.
Serendipity, improvisation and adlibs may occur on stage, but the design of your performing arts or theatre is a well-disciplined, precisely choreographed piece.
Strang designers make certain schedules and data coexist with creativity, resourcefulness and ingenuity.
An Authentic Coalition
When our architects, engineers and interior designers collaborate, the results can be spectacular. By that we mean, the implementation of intelligent, jaw-dropping designs that address artists and audiences alike, along with consultants, contractors, budgets and schedules. But it all begins with clients and stakeholders. We listen, not only to hear, but to understand your goals for the project.
Strang's performing arts and cultural projects are as diverse as their locations. Some reside in rural settings while others are in populated urban centers. Our projects range from large buildings with multiple stages to small single-stage venues. But each venue has a specific purpose for being (La Raison d'être) or what the program strives to achieve or the experiences it will create.
So, grab your Playbill and join us for a VIP, backstage tour of several recent designs.
This 63,300-SF building on the University of Wisconsin – Madison campus, is designed to be a showcase for the Mead-Witter School of Music, and connect the community with the music program. It will also feature a 650-seat concert hall with state-of-the art acoustics.
Creative sound-masking will musicians to perform with a blank canvas of sound while surrounded by a noisy area of campus. At the same time, unique double windows will mitigate outside noise while allowing for passersby to view rehearsals by student musicians.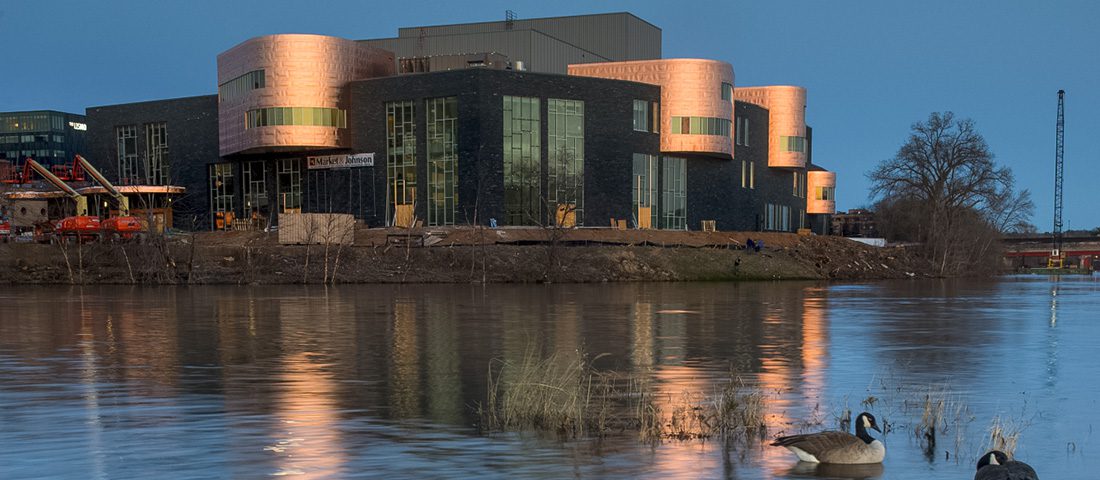 Pablo Center at the Confluence
The 130,000-SF Pablo Center offers the Eau Claire, Wisconsin community an expansive performance space for actors, musicians and artists of all ages and talent levels. It includes a 1,129-seat main theater, a 397-seat mid-size theater and a gathering space that can be transformed for various types of performances. Strang, in conjunction with Holzman Moss Bottino, designed the facility to be flexible enough to host a variety of community events.
Located in rustic Door County, Wisconsin, the leaders of Northern Sky Theater want to have a place in nature to nourish the creative spirit, a place where original musical theater comes to life. Strang designers are creating a two-building campus for the theater company that will increase efficiencies and expand its creative capacity.
The centerpiece will be a professionally equipped, intimate 248-seat theater, giving Northern Sky an indoor venue for fall and winter shows. The multi-functional center will include pre-production facilities and administrative offices.
This 2,500-person music venue resides in the Gebhardt Building, part of the rebirth to Madison, Wisconsin's Capitol East District Corridor. Owned by Frank Productions, a family-owned and operated business for more than 50 years, the 40,000-SF hall was designed to meet the demand for world-class live music in Madison.
Designers worked closely with the Franks to assure The Sylvee would accurately reflect the family legacy and allow bands and artists of all types and sizes to be able to entertain local audiences for generations.
Designers were charged with a unique challenge in renovating the Up The Hill Theatre at this outdoor venue in south-central Wisconsin: update the stage and facilities without losing the venue's rustic sophistication. The result was upgraded acoustics and sight lines, new handrails and a loops system to improve assistive listening.
The lobby and backstage areas were also renovated for accessibility and aesthetics. The result was a familiar amphitheater with modern amenities and state-of-the-art performance capabilities.
Contact Us
Ready to get started? Or just have questions that need answers? We would love to hear from you.