Happy National Pet Month!
May is National Pet Month here in the USA! To celebrate, we are highlighting our staff's WFH buddies, companions, best friends, and certified #goodboys. We would also like to shine a light on rescues that us Strang'rs have adopted from, their hard work has created many life-long bonds that we are so thankful for!
Laverne
From Cassie: Her favorite food is mango. She has a bright orange beard. When she's achieved peak temperature while basking, she opens her mouth and it looks like she's smiling.
Jackson
From Cindy: when we were choosing a cat from the rescue 14 years ago, Jackson sneezed on us and that's how we knew he was the one.
Cleo and Teddy.
From Connie: My desk is being taken over by my cats!
Dandelion
From Corey: We got a sweet and snuggly grey tabby kitten about 6-7 months old from the Humane Society of Jefferson County. My daughter named him Dandelion. He likes belly rubs and shoulder rides.
Billy aka Bill
From Gayle: My daughter is very active in Fetch Wisconsin, a rescue organization in Madison. Fetch brings dogs from Louisiana, Texas and other areas of the south. Billy needed a 1 week placement and she asked us if he could "land" at our house, temporarily. He was curled up in a ball on the couch, for the first 4 days. By Day 5 he began to unwind, and we decided he needed to stay forever. Bill now has 50 acres of farm and woods to patrol. He spends his days chasing squirrels, mice, rabbits and an occasional woodchuck. My husband is physically handicapped and they take long slow walks together. If my husband falls, Bill just sits right next to him until he can get up. He loves the Fed Ex guy but does not trust the UPS guy. Go Figure!
When I put my headsets on for a conference call…..he comes and sits next to me, hoping for pets.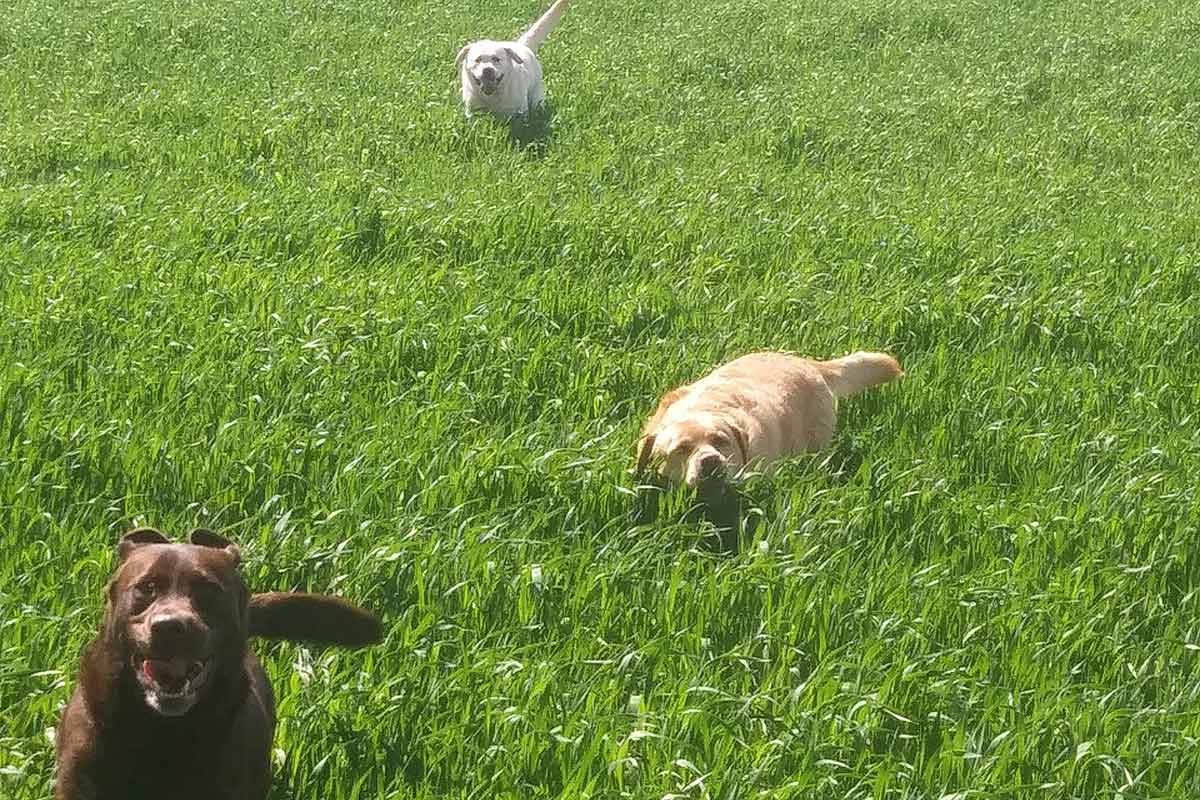 Otis, Baxer, and Lucy
From Jack: My kids are Otis, 7 yr old Chocolate, Baxter, 6 yr old White and Lucy 5 ½ yr old Red. All are pure bred labs. DOGS RULE!!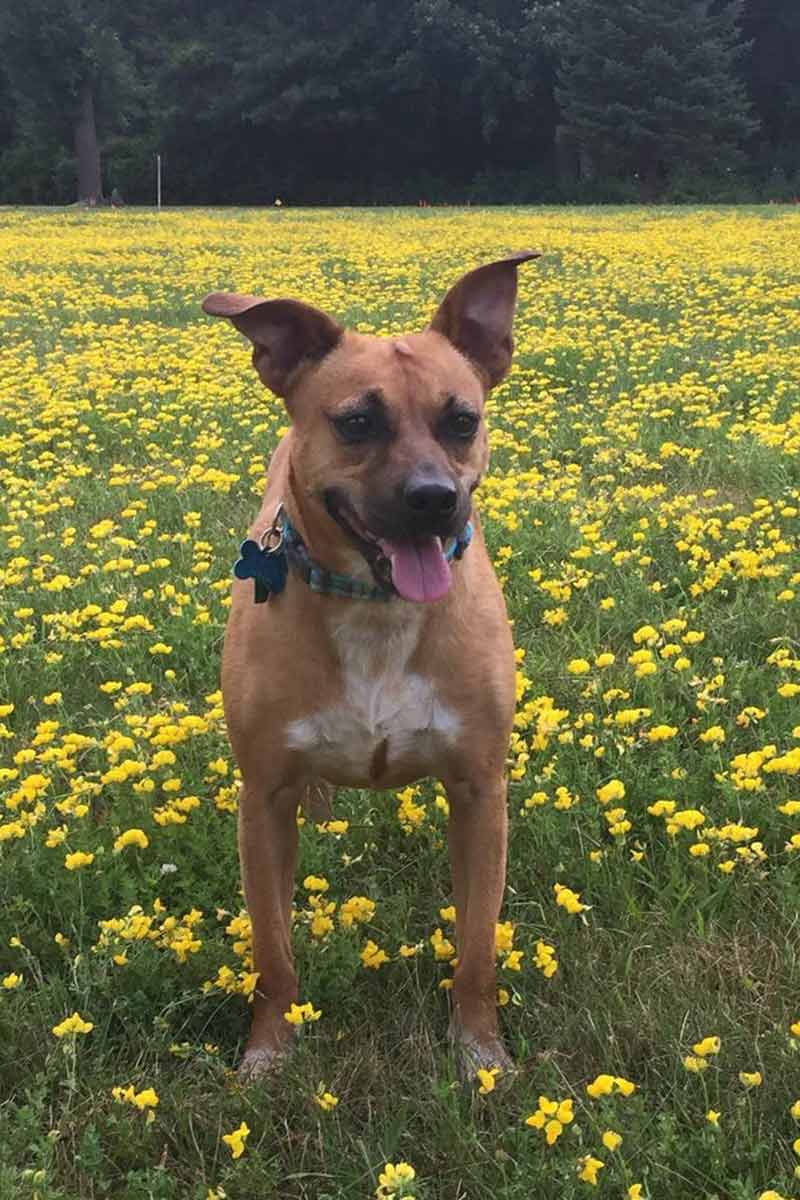 Libby
From Katie: She's half Boxer and half Jack Russell Terrier. We adopted Libby two years ago when she was four years old from Fetch Wisconsin Rescue. She was rescued from Tennessee originally and switched owners a few times before finding her forever home with us. Her last owner indicated they didn't have time to give her the proper attention she needed and it is true that she can be persistent about playtime! Luckily in our house of four people, there's always someone available to take her on a walk or play 'hide the treat' with her. We couldn't have asked for a better doggy!
Apa, Nico, and Evelyn
Apa the cat, Nico the Collie, Evelyn the beagle and dachshund mix.
From Roger: Apa the cat was inherited from neighbor across the street. One of their kids returned it to them when they couldn't have a pet where they were living. Evelyn the small dog is a beagle dachshund mix. We got her from the Humane Society of Madison. She lived in Mississippi at the gulf and her home was destroyed by hurricane Michael in October 2018. The local humane society found her and sent her to Madison. Madison has a high rate of adoption and she traveled by bus here in November 2018 when we adopted her.
Gary & Jenny
From Sonia: Gary was adopted from Diamond Dog Rescue. His adorable handsome face had me at hello! He's always happy to see me and so loving. Gary came from an Amish puppy mill, he didn't sell so he came home to me!! He was skin and bones when I got him but now a hunky solid boy.
Jenny was also adopted from Diamond Dog Rescue Long. Jenny was my first foster. I'll never forget the emotional day I picked her up. She came from a puppy mill, I believe in Iowa. Jenny was in horrible shape, I cried immediately. Skin in horrible shape, could see her ribs, you could tell she had just had puppies. Smelled awful, I took her straight to a dog store with in-store bathing service. I had her for about a week when she got adopted. I told the lady, she needed to see a vet immediately. I thought she was blind and she never wanted to walk. Her skin was in really bad shape too.
A few days later I got a message that Jenny wasn't wanted anymore. She wasn't getting along with her other dog. I picked her up a few days later and Jenny was back on the market. Jenny never got another approved applicant, she became my first foster fail. We've had many trips to the vet, lots of dollars spent, gone thru surgeries, I cannot count the rugs I have replaced but Jenny found her forever home and her brother Gary. I don't know what I would do without them especially in today's times.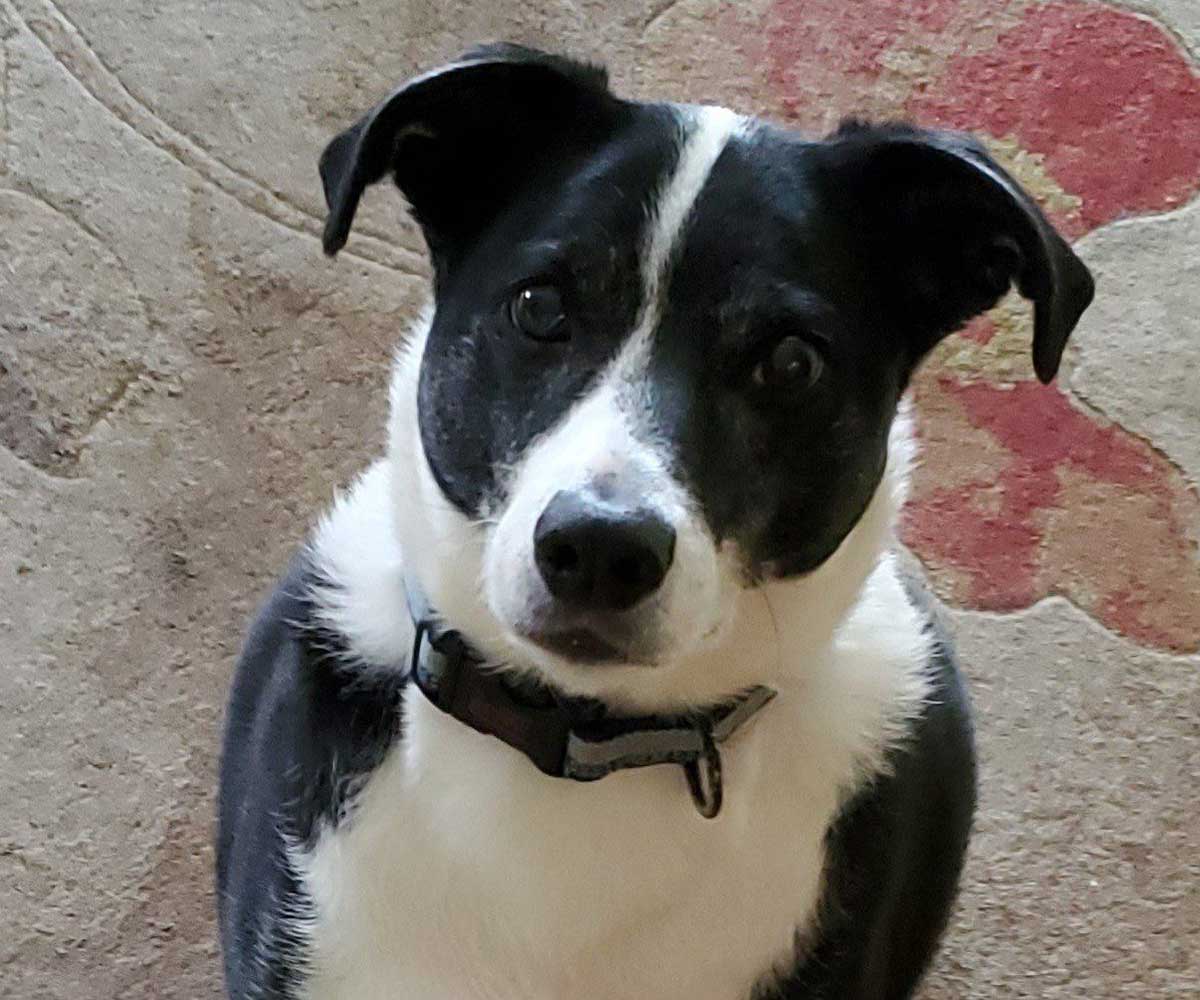 Newton
From Sue: Newton rescued me at the Animal Rescue Fund in Amelia, Ohio a little over 5 years ago. He had been at the shelter for a long time, had been adopted out and returned by someone who had no idea what a great dog he was. Lucky for me! He was about 7 month's old when we met. We have been together ever since. May is his birthday month and he is now 6 years old. He enjoys off-leash walks at dog parks, his nightly treat at TV time, and wants to be anywhere we happen to be. He's the best dog in the entire world. Many people say that about their dog but in Newton's case it's true.
Katoomba and Leura
From Gene: They are 4 years old sisters, and we found them by having the good folks at "Noahs Ark Pet Store" on Sherman Avenue watching out for a patch tabby for us. Katoomba has the patches of orange and grey tabby on her, and Leura while mostly white, has a few tabby patches on her too.  We have had them since they were 10 weeks old.
They are great company!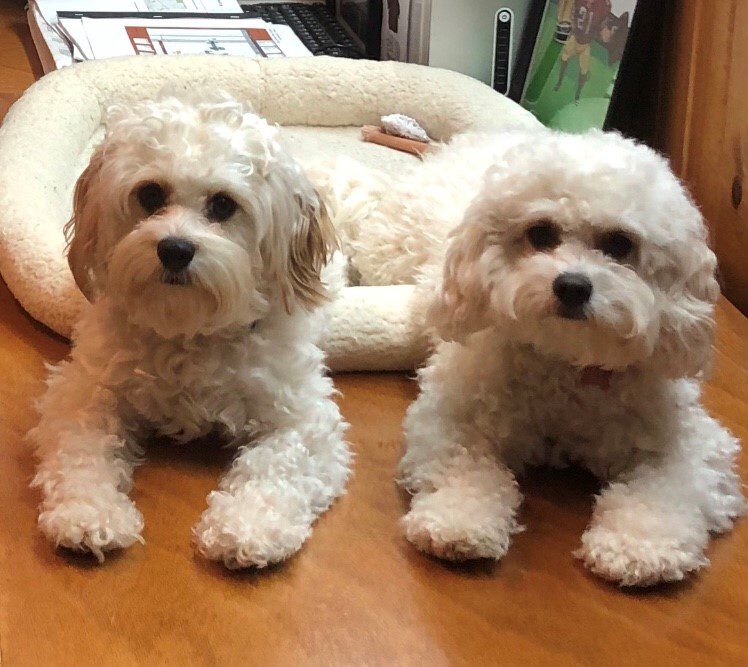 Jessa and Jada
From Jeff: They are Cavachons. One was so much fun, my daughter insisted we get a second. Jessa (the one on the right) just turned 2 years old.  She enjoys daily tummy rubs, stealing socks out of the laundry basket, and stealing the kitchen hand towel off the oven door to roll around with. Jada (the one on the left) is 1 ½ years old.  She enjoys eating her food in record time (sometimes without chewing it), doing the army crawl on the kitchen floor, and starting playful fights with her sister.
Both love chicken as a special treat and late night naps in the recliner.
Nova
From Sue Long: Here is our 9 month Golden Wonder (teddy bear mixed with golden retriever)
Scar Face and Bailey
From Larry: Scar Face (squirrel) adopted from the wild. Outdoor pet. Bailey (cat) was abandoned by her owner at 2 years of age  A friend of ours put food out for her in her shed where Bailey lived for several months with other stray cats before we took her in.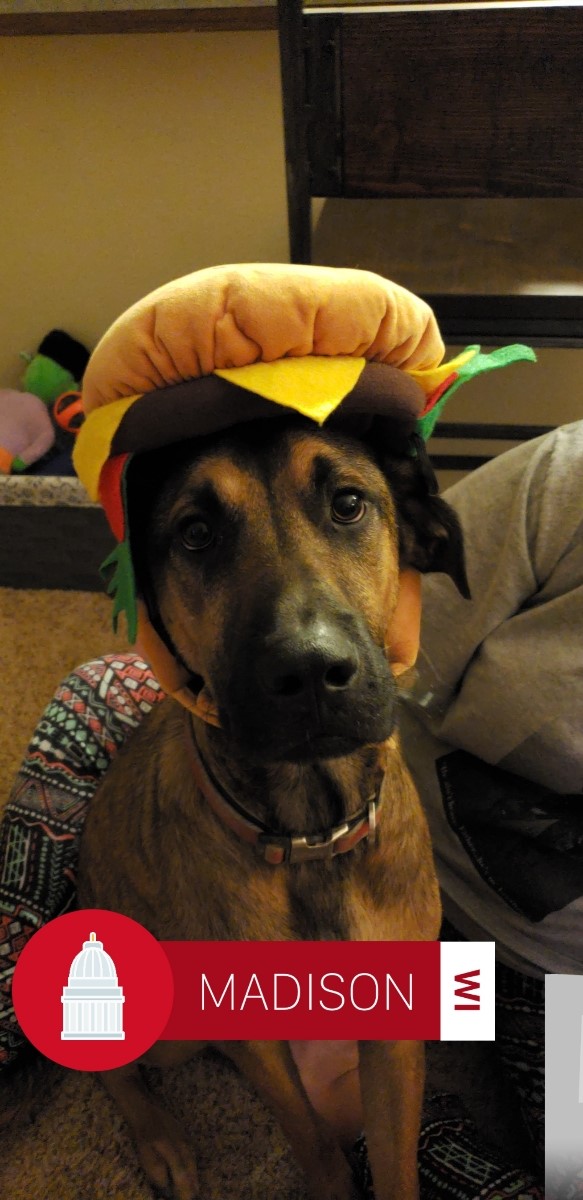 George, Georgie, George-inno, Georgie-pie, Jorge,
From Kaitlyn: George came to me from Texas at 9 weeks old in November via Key to Happiness Rescue. He did not like the cold and refused to go out unless his jacket was on. Now that he is 3 and has adjusted to the Wisconsin weather he does much better in the cold but is still a drama queen. You may see him jumping or howling around Madison!
ruby
From Sarah: She's a rescue from Puppy Love Rescue out of West Bend, WI. They cleaned out a kill shelter in North Carolina the day before the dogs were set to be euthanized. Then drove all the dogs up to Stoughton in a van, A few days later Roxy (I renamed her Ruby) was all mine! She was about 3 months old and I was told due to her small paws she wold top out at 35 lbs. She is 80 lbs today 🙂
I call her my doghter.