Strang is Top firm - again
In Business magazine readers vote Strang the top commercial architectural firm in Madison for the sixth consecutive year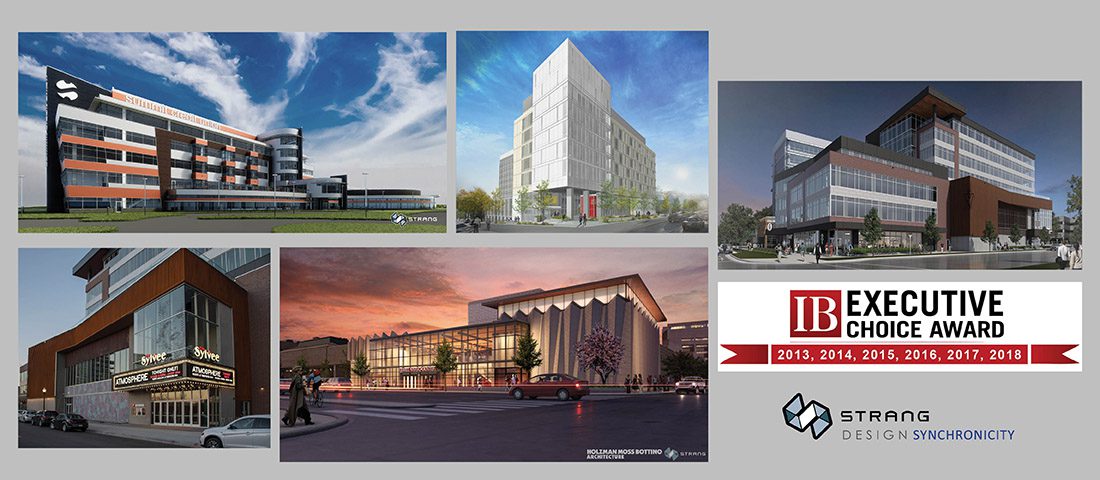 MADISON, December 6, 2018 – For the sixth consecutive year, the readers of  In Business magazine have named Strang, Inc. the top commercial architectural firm in the Greater Madison area.
In Business made the announcement of its annual Executive Choice awards in its December issue. According to the publication, the winners represent the best of the best of local businesses within the Greater Capital Region.
 "This is an honor for our entire firm," said Strang President & CEO Larry Barton. "We are truly humbled by this award. We're thankful for our clients who trust of with their vision and resources and grateful to have colleagues who unify professional passion with expertise."
The awards in 37 categories are a result of a fill-in-the-blank survey among the executive readers (vice-president level and higher) of the magazine. Strang has been named the top firm for architecture each year since 2013.
During the past year, Strang completed the Gebhardt (office) and the Sylvee (music venue), both in the same building on East Washington Avenue and broke ground on its renovation and addition project at the University of Wisconsin – Madison's Chemistry building. In the coming year, Strang will complete the Summit Credit Union headquarters in Cottage Grove and the Hamel School of Music on the UW – Madison campus.
Established in Madison, Wisconsin in 1935, Strang, Inc has evolved into an interdisciplinary and award-winning architectural, engineering and interior design firm. Strang's client-centric and service driven nature has allowed it to develop long-standing relationships with industry-leading organizations of all sizes and disciplines. For 80+ years, Strang has provided comprehensive design services for thousands of higher education, commercial, research and development, and governmental projects throughout the country.
Contact Us
Milwaukee Regional Office:
W238 N1610 Busse Road, Suite 102
Waukesha, WI 53188
262.875.6760
Madison Office:
811 East Washington Avenue, Suite 200
Madison, Wisconsin 53703
608.276.9200